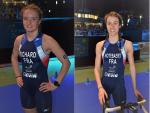 Liévien Saturday 2 March 2019:
Léa RICHARD and Elsa NOTEBAERT (on the photo), students in the sport division of triathlon in HENRI DARRAS high school in Liévin WHO WILL PARTICIPATE IN THE WORDL SCHOOL TRIATHLON CHAMPIONSHIP IN JUNE 2019 IN CASTELNAUDARY, had the immense privilege to participate to their first European Cup, a great experience for both, not much was missing compares to the best athletes !

On the open courses, great performance for the boys with Matisse and Lucas in the final A, Arthur and Sullyvane in the semi-final, and Cyril who missed out the qualification.

We have to note that on Wednesday 27 February after a great race, the young people of the division have win and they are qualified for the French UNSS triathlon championship which will take place in BOUZIGUES in Hérault on the 21, 22 and 23 May 2019.

Congratulations to Léa, Elsa, Matisse, Hugo and Laurent PHILIPPE their PE teacher responsible fort this sport division and co-organizer of this 1st indoor triathlon of Liévin.





competition website